Resource Title
10 Myths About Corporate Social Responsibility
Summary
How much do you know about business and human rights? Take a look and explore 10 popular myths about corporate marketing tactics, voluntary pledges, token CSR actions and supply chain accountability.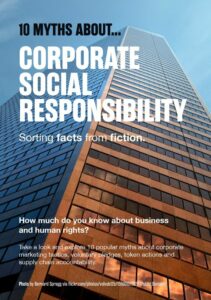 Description
This CSR myths pocket-size booklet includes:
Why thinking about corporate social responsibility matters
10 short myths about how it is only a public relations exercise and a 'western' idea, how ineffective it is, how it will never change the international business agenda or how public does (or does not?) influence the CSR agenda
Links to the Sustainable Development Goals and business and human rights
References per each myth following a fact or fiction approach and an explainer
The 10 Myths About….series looks to sort facts from fiction on key global development, human rights and justice issues.