Welcome to the 2020 Human Rights Day live-blog.
Hit refresh to update the page to the latest posts.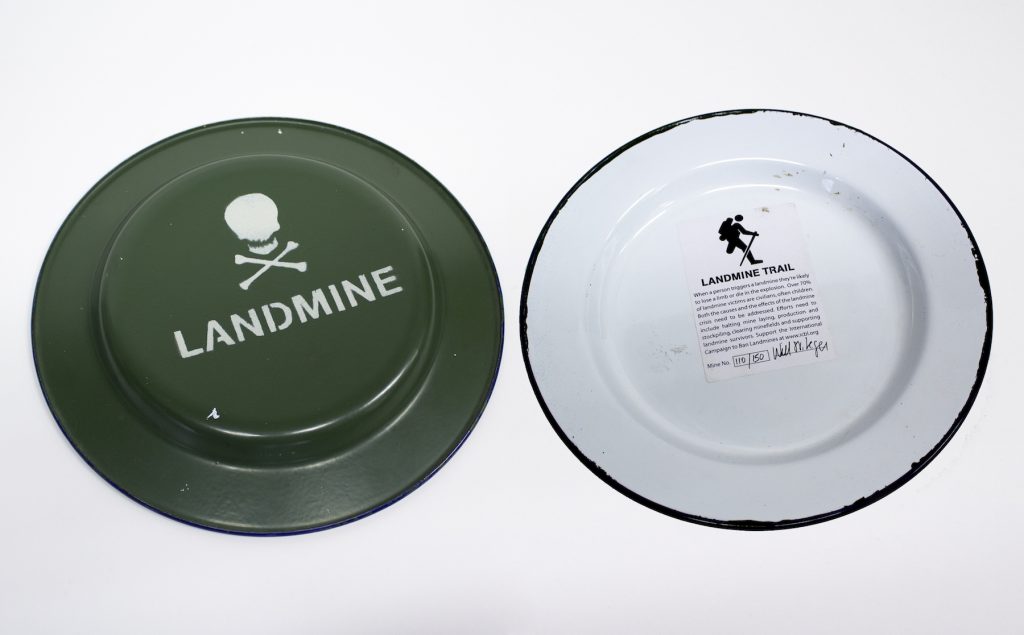 A brief roundup of some useful links on developmenteducation.ie
A group of 5 international human rights experts have taken issue with the idea of a so-called "supply and vaccine nationalism", and in a joint statement agreed:
"All efforts to prevent, treat and contain COVID-19 must be based on the bedrock human-rights based principles of international solidarity, cooperation and assistance…"there is no room for nationalism or profitability in decision-making about access to vaccines, essential tests and treatments…"
Strong words on human rights day.
Its been a difficult year, to put it mildly. With that in mind, Amy Braunschweiger of Human Rights Watch has put together inspiring stories and moments for Human Rights Day.
Take Vicky Wabire, for example, a teacher and guidance counsellor in a small girls' school in Kenya who is committed to helping girls reach their potential. Or perhaps Gambia's Minister of Justice Abubacarr Tambadou displaying moral courage and leadership in seeking justice both within his own country and for the Rohingya.
Take a look at the blog post from Human Rights Watch for more.
3 Stolen Cameras – film
This is a film inspired by the documentary 5 Broken Cameras about living and struggling under occupation in Palestine (an incredible film nominated for an Oscar) .
The members of video activist group, Equipe Media, fight to keep their cameras. They use them to document the Moroccan kingdoms' violations of human rights in Africa's last colony – Western Sahara.
"No journalists are allowed entry and the only images that find their way out of the territory are the ones Equipe Media manages to film in secret, hiding on roof tops and risking severe consequences. They film police and military attacks on peaceful demonstrations as well as testimonies of violence that Sahrawis are exposed to in their everyday life.
This is a story about breaking an absolute censorship with unique footage from an area where the Moroccan authorities have managed to implement a near total media blockade."
For more, visit 3stolencameras.com
The Face of Resistance – online photographic exhibition

The Face of Resistance is a photographic exhibition celebrating the courage and determination of people who have taken a stand against big business in support of a safer, cleaner and more just world.
The online exhibition features portraits of human rights defenders whom Trócaire works with in Honduras and Myanmar, as well as a number of activists from across Ireland. It includes a number of major themes related to human rights – and wrong – and shows how ordinary people can do extraordinary things from challenging the power of the polluting fossil fuel industry to stopping violent land grabs.
An incredible exhibition, well worth checking out.

"Our best chance of all staying safe is to ensure a COVID-19 vaccine is available for all as a global common good. This will only be possible with a transformation in how vaccines are produced and distributed — pharmaceutical corporations must allow the COVID-19 vaccines to be produced as widely as possible by sharing their knowledge free from patents.
Instead they are protecting their monopolies and putting up barriers to restrict production and drive up prices, leaving us all in danger. No one company can produce enough for the whole world. So long as vaccine solutions are kept under lock and key, there won't be enough to go around. We need a People's Vaccine, not a profit vaccine."
As an update on The People's Vaccine alliance, here's their 5-point list of demands to governments and a test to hold them against:
Ensure the vaccine is purchased at true cost prices and provided free of charge to people.
Prevent monopolies on vaccine and treatment production by making public funding for research and development conditional on research institutions and pharmaceutical companies freely sharing all information, data, biological material, know-how and intellectual property.
Ensure the vaccine is sold at affordable prices: Pricing must be transparent and based on the cost of research, development and manufacturing, as well as taking into account any public funding provided.
Implement fair allocation of the vaccine which prioritizes health workers and other at-risk groups in all countries. Distribution among countries should be based on their population size. In-country vaccination programmes should include marginalized groups, including refugees, prisoners, and people living in slums and other crowded housing conditions. Allocation between and within countries should be based on need and not ability to pay.
Ensure full participation of governments in developing countries as well as civil society from north and south in decision-making fora about the vaccines (and other COVID-19 technologies) and ensure transparency and accountability of all decisions.
Yesterday, the news that rich countries had been lining up and signing agreements to acquire the most promising Covid-19 vaccines were sealed well before the recent scramble to get vaccines over the approval line less than two weeks ago.
The news is more than sobering – it is scandalous. The Guardian ran the story, tracked by The People's Vaccine coalition, which includes Free the Vaccine, the Yunus Centre, Frontline AIDS, Oxfam, SumOfUs and UNAIDS. The headline says it all: Nine out of 10 in poor nations to miss out on inoculation as west buys up Covid vaccines.
What does this vaccine hoarding look like? The Coalition laid it all out:
Rich countries with 14% of the world's population have secured 53% of the most promising vaccines
Canada has bought more doses per head of population than any other – enough to vaccinate each Canadian five times
So far all of Moderna's doses and 96% of doses Pfizer/BioNTech vaccine have been bought by rich countries
"Rich countries have enough doses to vaccinate everyone nearly three times over, whilst poor countries don't even have enough to reach health workers and people at risk" – Dr Mohga Kamal Yanni, from the People's Vaccine Alliance
In a welcome contrast Oxford/AstraZeneca has pledged to provide 64 percent of their doses to people in developing nations. Yet despite their actions to scale up supply they can still only reach 18 per cent of the world's population next year at most.
Here's the rub – do Covid-19 vaccine manufacturers have a responsibility to act in the global public interest?
Would telling you that AstraZeneca/Oxford, Moderna and Pfizer/BioNTech have received more than $5bn of public funding to develop their vaccines change your answer?
The Universal Declaration of Human Rights was founded during one of the darkest moments in human history, and yet…the impulse it has launched towards the good. This from President of Ireland, Michael D Higgins [via Instagram]: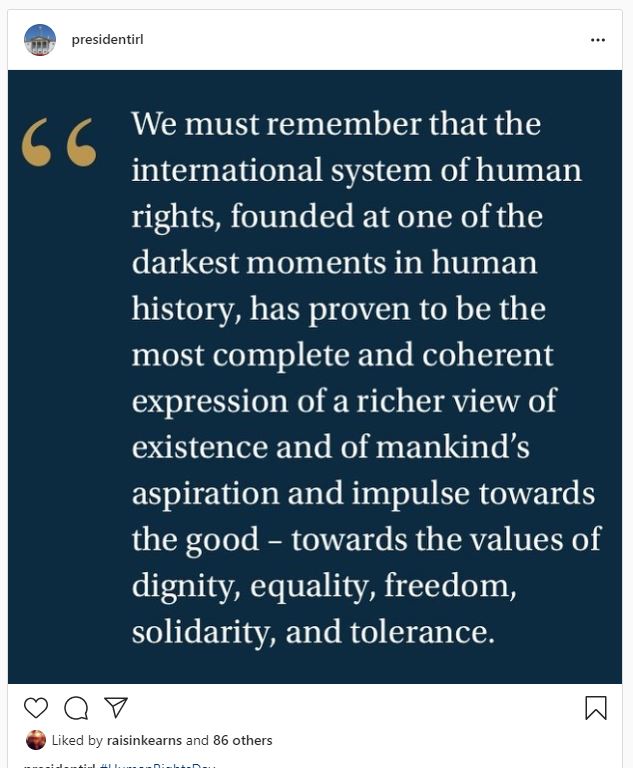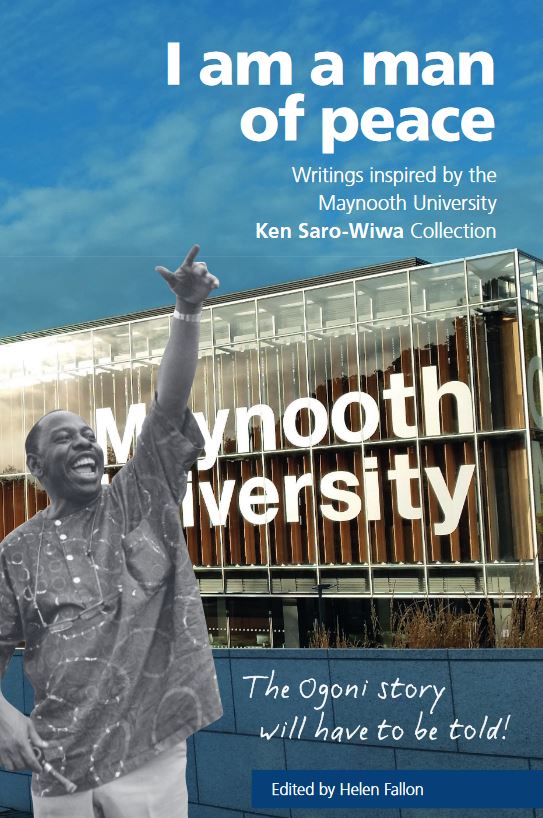 Writing to Sister Majella McCarron on 1 December 1993, Nigerian writer and activist Ken Saro-Wiwa urged her:
Keep putting your thoughts on paper. Who knows how we can use them in future. The Ogoni story will have to be told.
Today marks the launch of the I Am a Man of Peace: writings inspired by the Maynooth University Ken Saro-Wiwa Collection.
If you haven't seen the collection and are interested in environmental activism, corporate malfeasance, fossil fuels protests and the acts of people near and far in challenging power, you won't want to miss this.
Project leader, editor and deputy university librarian Helen Fallon wrote in her introduction:
I hope this rich and diverse collection of essays and poems goes some way to fulfilling his wishes, and strengthens in us – writers, poets and readers – the resolve to tell the stories of marginalised and oppressed communities everywhere. Our voices can help create a world where justice and equality are the cornerstone of our societies.
Disclosure – I was involved in contributing a chapter to I Am a Man of Peace with Ciara Regan of developmenteducation.ie based on our work on the Irish Global Solidarity in 100 Objects exhibition (let us know what you think of our write up of the exhibition and key lessons learned!).
"It's a celebration of the universal rights that almost all nations (at least on paper) aspire to. But while many of us tend to think about human rights as something universal, immutable, obviously true – more and more, we've seen attempts by our media and politicians to undermine them by dividing us, by building walls and by embedding injustice and inequality.
We know that the luck of the draw of where we're born shouldn't determine your fate in life. It's the content of our hearts, not the colour of our passports that's important. This #HumanRightsDay, join us in celebrating what we all have in common: to be safe, to belong, to love and be loved."
UK-based campaign group Choose Love, who work with people fleeing war, persecution and climate change, posted a message about human rights day to their 265k followers this morning: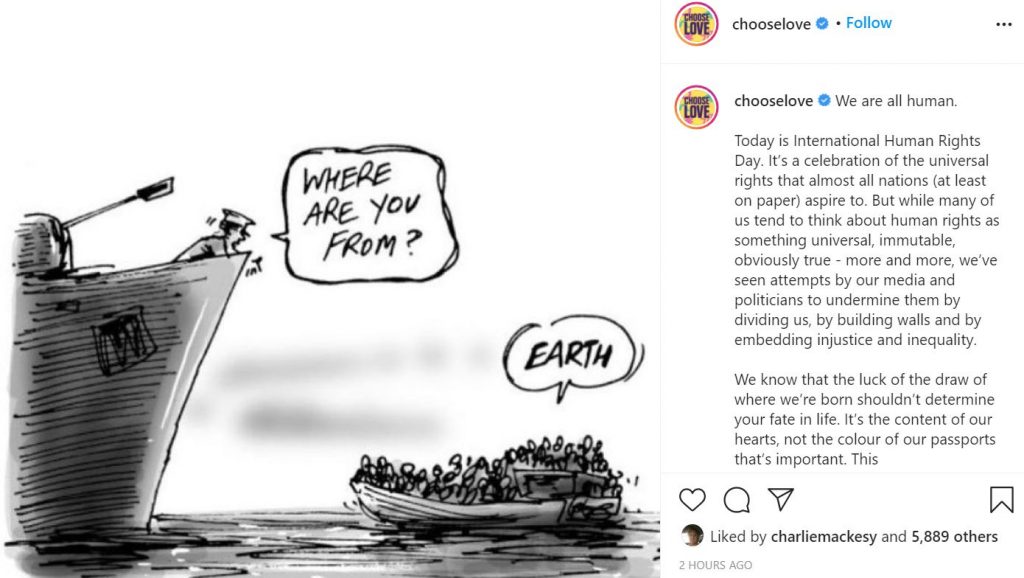 A focus on how Covid-19 crisis is impacting women and girls and how governments' responses either acknowledge or exacerbate it, from US-based Human Rights Watch's annual update in July to the UN Human Rights Council in Geneva:
"Outbreaks of disease often have gendered impacts. Human Rights Watch found that the 2014 Ebola virus disease outbreak and the 2015-2016 outbreak of the mosquito-borne Zika virus in Brazil had particularly harmful impacts on women and girls born of and unfortunately reinforcing longstanding gender inequity.
Over the last five months, we have all watched a looming women's rights crisis emerge from this health crisis. Women workers are over-represented in sectors that may face mass layoffs due to the economic downturn or where there may be sudden layoffs or worsening existing workplace abuses, including domestic work, garment and light manufacturing, sex work, agriculture, social care, hospitality, and community outreach.
At the same time, women globally do almost 2.5 times as much unpaid care and domestic work as men, making it harder to maintain paid employment. The devastating economic toll generated by the COVID-19 pandemic is exacerbated by weak or non-existent social safety nets in many locations."
Today's featured cartoon is brought to us by the one and only Martyn Turner. It's a classic at this stage, used time and again in education workshops at all levels for more than two decades.
Martyn, global citizenship educators of all kinds are in your debt for the fireworks it causes in a 40 minute session.
(More cartoons in the photo stories and cartoons galleries, plus a 'how to' for the educationalists)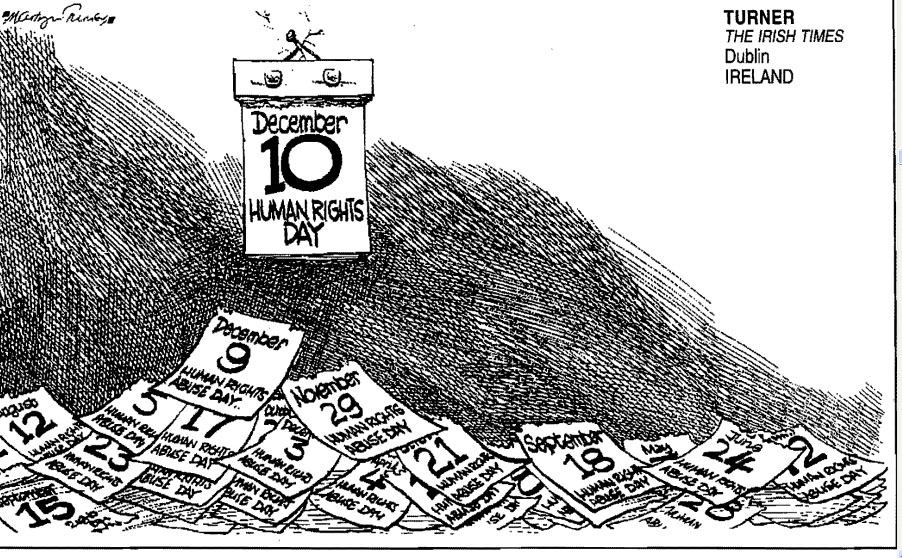 Good morning and welcome to our live-blog on International Human Rights Day 2020. It has been a year like no other, and as expected there are a lot of activities, happenings and critical moments to spotlight based a year of living under a Covid-19 world.
Please do send on any information, links or suggestions for inclusion to tony@developmenteducation.ie or tweet us at @devedireland
More on developmenteducation.ie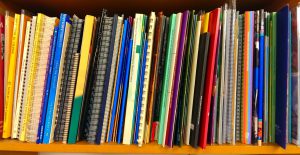 Are you an educator looking to explore global issues but unsure where to begin? Then this 5-point list is the list you've been waiting for.
Read More »